(Smrtiace) umelé sladidlá
---
Umelé sladidlá: Prečo sú tichým zabijakom dnešnej doby. | Umelé sladidlá a dochucovadlá sú nebezpečné. | Chemikália z pekla? | Potravinový postrach aspartám
Určite si už na internete videl podobné bu-bu titulky. Niekomu to stačí a myslí si, že keď vypije tú colu zero/light, tak do seba dal jed a zomiera.
Bulšit.
Pre istotu ešte raz.
Bul. šit.
Prečo sú umelé sladidlá v médiách takto démonizované?
Médiá chcú mať proste pútavé titulky, aby im potom ujo Gúgl zaplatil za klik zhrozeného človeka. To je všetko. Existujú niektoré štúdie, ktoré ukázali zvýšené riziko rakoviny (leukémia a lymfóm), negatívny účinok na črevný mikrobióm, alebo fakt, že sladidlá sú v tele metabolicky aktívne a môžu poškodiť.
Takže médiá vlastne majú pravdu. No, ani nie. Autori totiž asi nečítajú medzi riadkami. Štúdie s týmito "hrozivými" výsledkami (1, 2, 3, 4, 5) boli vykonané na hlodavcoch. Výskum potvrdil, že porovnávať v tomto smere metabolizmus človeka a hlodavca je nefér.
Tak, pri tomto by celý hoax mohol skončiť. Poďme radšej na vedu a štúdie.
Aspartám
Ten, chudák, to schytáva z každej strany. Pravdepodobne preto, lebo je naozaj často využívaný v potravinárstve. Prvýkrát bol použitý roku 1965. Ak si teda niekto myslí, že neexistuje dostatok relevantných info o tejto téme, lebo je to niečo nové, nie je tomu tak, sladidlá sú tu už vyše pol storočia. A prieskumov bolo vykonaných viac než dosť.
Správa potravín a liečiv stanovila bezpečnú odporúčanú dennú dávku na 50 mg/kg. Pre 80 kilového Gusta by to bolo 4000 mg, teda 4 gramy. To je samo o sebe naozaj ťažké prijať, keďže v 1 litri diétnej koly je 0,53 gramu aspartámu. Niekto by teda musel vypiť 8 litrov koly, aby sa vôbec dostal na túto hranicu. Ak to niekto dokáže, tak má asi väčšie stravovacie problémy, nad ktorými sa treba zamyslieť, ako jeho príjem umelých sladidiel.
Avšak ani vysoké denné dávky (45 mg/kg) nemali dopad na neuropsychologické, neurofyziologické alebo behaviorálne fungovanie u zdravých dospelých. Žiadne negatívne účinky sa neprejavili ani v ďalších štúdiách (6, 7)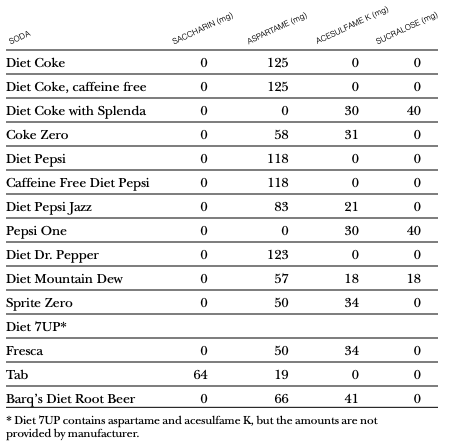 Riziko rakoviny
Rakovina je jedna z chorôb, ktoré sa spomínajú vo vzájomnosti s umelými sladidlami. Prehľad všetkých výskumov, ktoré hľadali spojitosť medzi aspartámom a rakovinou ukázal, že neexistuje dôveryhodný dôkaz o tom, že je karcinogénny. Potvrdil to aj Európsky úrad pre bezpečnosť potravín (EFSA). Taktiež nemá dopad na nervový systém, schopnosť učenia sa alebo správania.
Pomocníci pri chudnutí?
Toto je taká dvojsečná zbraň. Chudnutie je o jednej veci. Výdaj>príjem.
Dajme tomu, že Gusto bežne vypije liter klasickej coly denne, prijme ňou 105 gramov cukru, teda 420 kalórií. Ak by ju vymenil za light verziu (ktorá obsahuje cca pol gramu aspartámu), týždenne by ušetril 2940 kcal. Čo je teda dosť. Pomôže mu to pri znížení príjmu? Určite. Vhodnosť použitia umelo sladených nápojov potvrdzujú aj štúdie (8, 9, 10)
Problém však môže nastať pri inej veci. Asi každý pozná to, že keď si dá niečo sladké, má chuť na ďalšie a ďalšie. Mozog dostane signál, že mu je dodávané sladké, avšak kalórie tam chýbajú. Môže si pýtať teda ďalšie jedlo, aby tento "hlad" utíšil. Práve vtedy si treba dávať pozor, aby nedošlo k nekontrolovateľnému prejedaniu a z ušetrených kalórií sa zrazu stane nadbytok.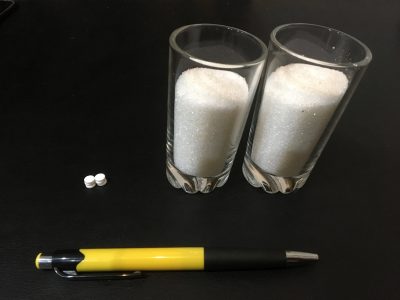 Reálne nebezpečenstvo
Umelé sladidlá môžu byť reálne nebezpečné v prípade pacientov s fenylketonuriou (PKU). Pre nich by na etiketách potravín mala byť aj informácia o obsahu aspartámu. PKU je choroba, keď chýba enzým na štiepenie fenylalanínu, ktorý je súčasťou aspartámu. Tým pádom vzniká jeho nahromadenie v tele, čo vedie k poruchám nervovej sústavy.  Ak však netrpíš PKU, nemáš sa čoho báť.
Stále máš pochyby?
Metaanalýzy z 205, resp. 372 štúdií a ďalšia štúdia potvrdzujú, že umelé sladidlá nemajú nežiaduce účinky na ľudské telo.
Zhrnutie
Pozeraj sa na vec celkovo. Povieš si, že chceš žiť zdravo, tak radšej nič umelo vytvorené do seba nedávaš. A pritom cucáš 400 kalóriové frappé. Lebo to je len káva. Rozhodne nie som zástancom potravín s umelými sladidlami, napríklad nápojov. A ani ma neláka načierno zafarbená tekutina. V 95% prípadov pijem čistú vodu. Avšak každý má občas tých 5% a chuť "zhrešiť". Práve vtedy sú vhodné light/zero verzie, kde sa nemusíš cítiť vinne ani z hľadiska presiahnutia kalorického príjmu, ani z hľadiska zdravotného. Samozrejme, všetko s mierou.
---
Zdroje:
-https://www.ncbi.nlm.nih.gov/pmc/articles/PMC4661066/
-https://www.ncbi.nlm.nih.gov/pubmed/9734727
-https://www.ncbi.nlm.nih.gov/pubmed/2923074
-https://www.ncbi.nlm.nih.gov/pmc/articles/PMC520987/
-https://www.ncbi.nlm.nih.gov/pubmed/17828671
-https://www.ncbi.nlm.nih.gov/pubmed/15367404
-https://www.ncbi.nlm.nih.gov/pmc/articles/PMC5591507/
-https://www.ncbi.nlm.nih.gov/pmc/articles/PMC5522834/
-https://www.ncbi.nlm.nih.gov/pmc/articles/PMC5464538/
-https://www.ncbi.nlm.nih.gov/pmc/articles/PMC4661066/
-https://www.ncbi.nlm.nih.gov/pubmed/3190220
-https://www.ncbi.nlm.nih.gov/pubmed/9022524
-https://www.ncbi.nlm.nih.gov/pmc/articles/PMC4135487/
-https://www.nature.com/articles/ijo2015177#abstract
-https://dash.harvard.edu/bitstream/handle/1/8846759/Nill,_Ashley_-_The_History_of_Aspartame.html?sequence=6
-https://www.fda.gov/food/ingredientspackaginglabeling/foodadditivesingredients/ucm397725.htm
-https://static.diabetesselfmanagement.com/pdfs/DSM0310_012.pdf
-http://www.efsa.europa.eu/en/press/news/131210
-https://www.sciencealert.com/artificial-sweeteners-like-aspartame-can-be-toxic-to-our-gut-microbes
-https://ntp.niehs.nih.gov/ntp/htdocs/gmm_rpts/gmm1.pdf
-https://academic.oup.com/ajcn/article-abstract/40/1/1/4691253?redirectedFrom=fulltext
-https://www.fda.gov/food/ingredientspackaginglabeling/foodadditivesingredients/ucm397725.htm
-https://www.nspku.cz/nemoci/fenylketonurie.html
(Visited 15 times, 1 visits today)