(Ne)dôležitosť frekvencie jedál
---
Stále pretrváva zaužívané pravidlo, že ak ješ malé porcie čo najčastejšie (5-7x denne), tým to je lepšie pre chudnutie. Dokonca som počul už aj to, že keďže kvôli práci/škole/niečomu nemáš čas na tak časté jedenie, tak ani nemá zmysel pokúšať sa niečo zmeniť. To, či priberáš/chudneš, závisí od kalorickej bilancie. Takže by to malo znamenať, že keď si dáš jedno jedlo (2000 kcal) alebo 5 jedál (po 400 kcal) tak to má taký istý efekt. V podstate áno, ale nemusí to byť v každom prípade tak.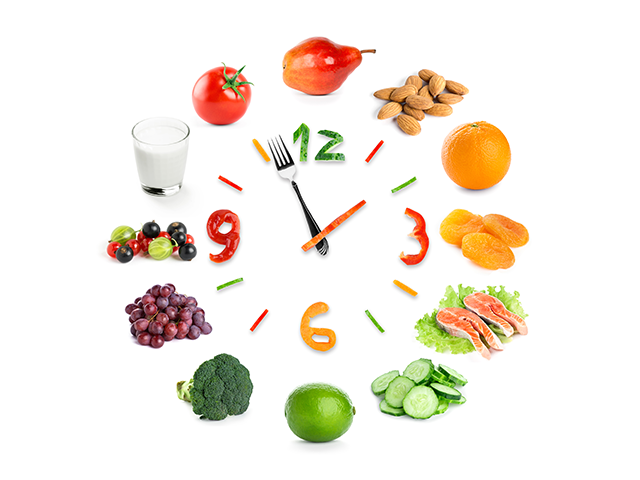 Rozdiel medzi športujúcimi a nešportujúcimi
Iná frekvencia jedál (2-7 porcií) nemá výrazný efekt na zrýchlenie metabolizmu (termogenézy/produkciu tepla). 
Avšak nepravidelný rytmus jedenia počas týždňa v porovnaní s častou, pravidelnou stravou spôsobuje spomalenie procesu, pri ktorom sa jedlo v tele rozkladá a využíva (múdro povedané, znižuje postprandiálnu termogenézu). Taktiež to v štúdii nepriaznivo ovplyvnilo citlivosť na inzulín a zhoršili sa výsledky lipidového profilu pri krvných testoch. 
V týchto štúdiách bola vzorka ľudí s veľmi nízkou aktivitou a sedavým lifestyle-om. Pre "neaktívnu" populáciu je vhodnejšie jesť častejšie a menšie porcie, kvôli lepšej kontrole svojej hmostnosti. Nepravidelné jedenie môže spôsobiť metabolické problémy. Takže tí, ktorí nešportujú, by sa pravdepodobne mali držať pravidla – malé, časté porcie.
Pre tých čo športujú všeobecne platí, že vďaku športu majú tieto oblasti v pohode vykryté. Pravidelné cvičenie či iná fyzická aktivita zlepšuje metabolizmus a telo dokáže pracovať s poskytnutými živinami oveľa lepšie. Druhá polovica článku teda bude zameraná na ľudí, ktorí pravidelne športujú.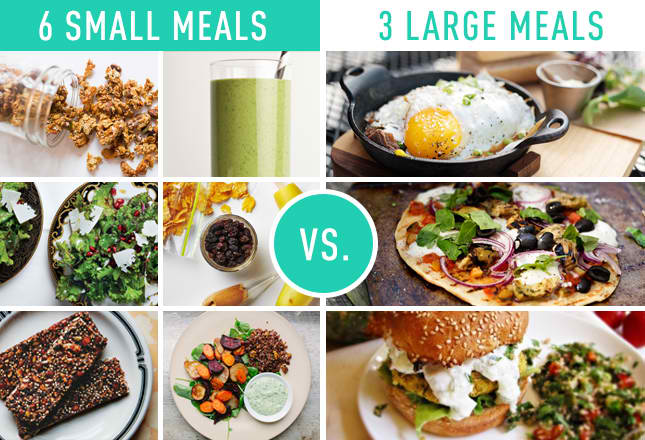 Niekoľko štúdií (1, 2, 3) preukázalo, že rozdielna frekvencia jedla nemá dopad na telesnú váhu alebo kompozíciu. Napríklad v tejto, 3 jedlá denne (aj so sacharidmi) mali menší efekt na "skákanie" glukózy v krvi, ako 6 jedál (celkové denné množstvo sachrov bolo také isté). Taktiež bol zaznamenaný menší subjektívny pocit hladu a väčšie uspokojenie z jedla.
V tejto štúdii boli respondenti v kalorickom deficite po dobu 6 týždňov. Pravidelne cvičili, jedli 4 porcie denne, len s inak rozloženými kalóriami v nich. Rozdelili sa na 2 skupiny, jedna s kalóriami rozdelenými "nárazovo" – 8/80/4/8 % a druhá rovnomerne – 25/25/25/25 %. Neprišlo sa na žiadne výrazné rozdiely v telesnej kompozícii. 
Tu sa zasa porovnávali 2 skupiny, rovnaký kalorický príjem, celkovo 8 žien a 8 mužov po dobu 8 týždňov. Prvá skupina jedla 3 jedlá denne, druhá 3 jedlá + 3 snacky. A výsledok? Zanedbateľné rozdiely pri meraniach chuti do jedla alebo črevných peptidov (Peptid YY a grelín, ktoré – veľmi jednoducho – zodpovedajú za znižovanie chuti do jedla). Takže vyšší počet jedál nepodporoval stratu hmotnosti.
Long story short
Ak nešportuješ – jedz často, v menších porciách. Je to lepšie pre Tvoj metabolizmus a zdravotný stav. Možno tým aj lepšie ukontroluješ celkový príjem a vyhneš sa "opúštaniu sa" pri kope jedla naraz.
Ak športuješ, frekvencia jedál nebude mať dopad na Tvoje zdravie. Či zješ 2000 kalórií v dvoch jedlách alebo v siedmich, je to pre Tvoje telo jedno, lebo si s tým v pohode poradí a živiny zúžitkuje tak či tak.
---
Zdroje:
-https://www.ncbi.nlm.nih.gov/pubmed/11319656/
-https://www.ncbi.nlm.nih.gov/pubmed/1905998/
-https://www.ncbi.nlm.nih.gov/pubmed/15085170/
-https://www.ncbi.nlm.nih.gov/pubmed/15220950/
-https://www.ncbi.nlm.nih.gov/pubmed/20921964
-https://www.ncbi.nlm.nih.gov/pubmed/19776143
-https://www.ncbi.nlm.nih.gov/pubmed/21410984
-https://www.ncbi.nlm.nih.gov/pubmed/22719910/
-https://www.ncbi.nlm.nih.gov/pubmed/22895782/
-https://www.ncbi.nlm.nih.gov/pubmed/19943985
-https://www.ncbi.nlm.nih.gov/pubmed/26024494

(Visited 30 times, 1 visits today)